Why choose us as your React Native Development Company?
We are known as a leading React Native App Development Company among our peers and known for providing top-notch quality with guaranteed efficiency. Our React Native specialists focus on providing on-time delivery with after sales support and maintenance if you face any issue. They build the app based on how exactly you want it with logical suggestions and approvals by taking you through every step of the process.
About React Native app development services in India:
React Native Mobile Development Services has been one of the most rapid increasing industries for a couple of years now. React Native is based on React, an already popular JavaScript library. And one of the most crucial features of React Native services is that it helps in building smooth apps and enhanced user experience with less loading time.
Steps for the best React native Development Services:

Consultation
We try to understand the needs of your business and how the app should be built in order to comply with the same.

Design And Development
The process of designing the UI and the core development of how it will run smoothly on all platforms is started by maintaining transparency throughout.

Tests
The app is made to run through several different tests once it is ready to make sure no bugs are reported.

Support And Maintenance
Once the services are delivered we make sure to maintain the app through regular needed updates and support 24×7 in case of issues.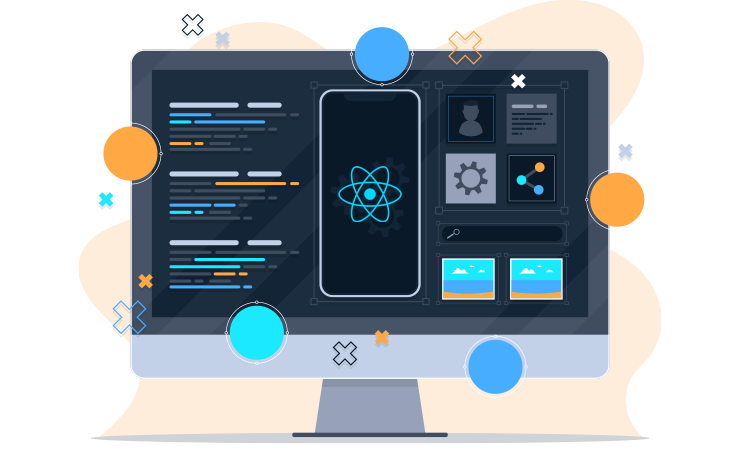 How is React Native beneficial for your business needs?
1. Less Building Time: Since React Native allows a developer to write the code once for cross-platforms the time involved in building the apps is quite less.
2. Cost Saving: As React native does not needs different codebase for different platforms, you do not need to hire Android and iOS developers separately.
3. Reduced Loading Time: React Native helps in building smooth User Interface with fast refreshes and hence reduced loading time.
4. Future of Development: React Native is considered to be the future of app development as it has been growing and popular among developers and businesses

.